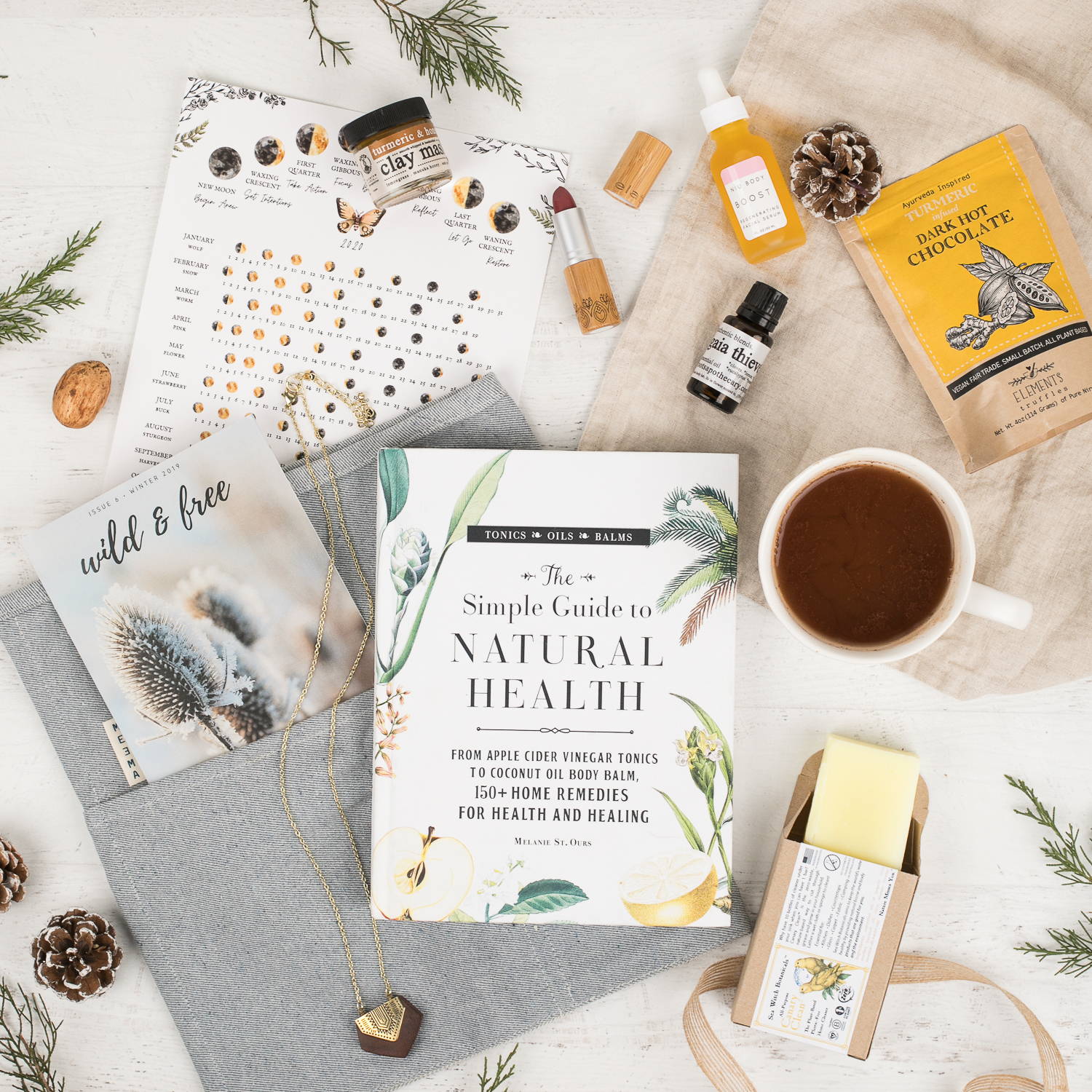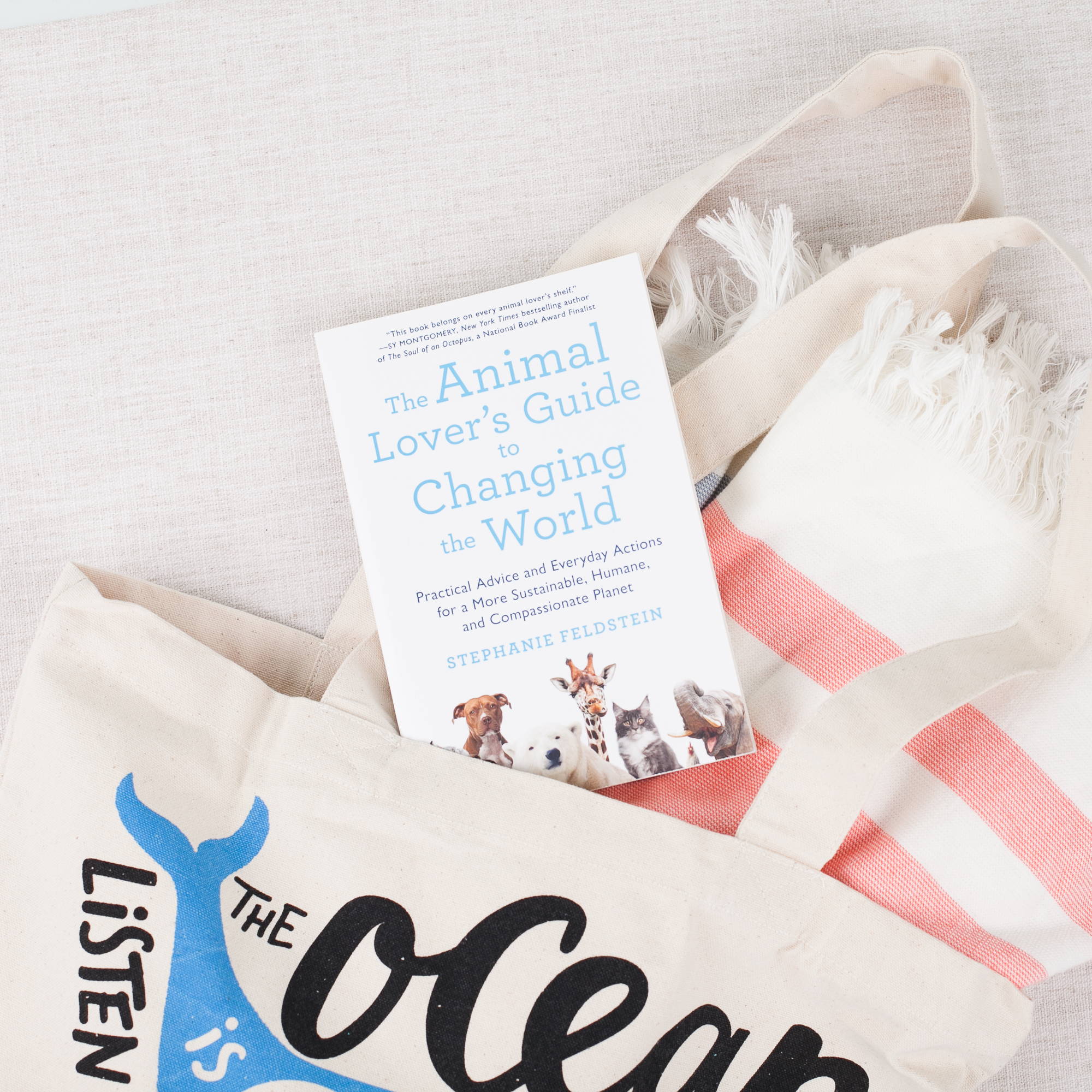 ✨ Book of the Season: The Simple Guide to Natural Health -- a helpful reference guide full of easy recipes to make!
✨ Canary Clean plant-based cleaning bar by Sea Witch Botanicals. Ditch chemicals, toxins, and plastic and keep your home sparkling with this all-natural bar (smells lovely, too!)
✨ Gorgeous waist apron with four roomy pockets and a loop made of upcycled scrap denim by MEEMA for wherever your creativity might take you!
✨ Regenerating Facial Serum by woman-owned team NIU Body. Gentle, all-natural, and hydrating this serum keeps your skin happy and healthy throughout the season ♥️
✨ Lovely fair-trade rosewood and brass durga necklace that supports women artisans and community development in India by Matr Boomie
✨ Lunar Calendar art print designed by us Earthlove. Follow the cycle of the moon as we head into 2020. Great for moon gardening, surfing, and learning more about the moon 🌕
✨ Beautiful clean, cruelty-free, and zero waste Vivacious lipstick by Elate Cosmetics -- an amazing company leading the way in conscious, sustainable beauty.
✨ Organic Gaia Thieves essential oil by Roots Apothecary. From an old recipe, Gaia Thieves helps with colds, congestion, and lifting spirits.
✨Organic Face Mask by Roots Apothecary (either Cocoa and Coffee or Turmeric and Honey). Cleanse and renew with a refreshing mask!
✨ BEEGAN BOX ONLY: Delicious Ayerveda-inspired Maple Toffee with Moringa dark chocolate bar by Elements Truffles.
✨ VEGAN BOX ONLY: Ayervedic-inspired Turmeric Dark Hot Chocolate by Elements truffles. Great to sip on a cold winter's day ❄️

This box supported Orangutan Alliance.
Our Autumn Box was packed with a lovely hardback cookbook plus EIGHT Earth-friendly goodies to welcome the season with a retail value of $197 :
🍂 BOOK OF THE SEASON: Food is the Solution by Matthew Prescott. This beautifully designed resource and recipe collection shows how you can help address the world's major environmental issues simply by better incorporating plants into your diet.
🍂 EXCLUSIVE Botanical Produce Bag Set handcrafted by us here at Spirit Wild Farm. We hand dyed a set of 100% GOTS-certified organic cotton produce bags with wildcrafted plants growing around our farm. Reduce the use of plastic bags at the produce stand!
🍂 Air Purifying Bag by Bisou Natural. Made from sustainably-sourced activated Moso bamboo charcoal, this air freshener is an earth-friendly option for removing excess moisture, odor and allergens from the air.
🍂 Tea & Coffee Spoon Set by Acacia Creations. These cute olive wood spoons are hand-carved and support artisans in rural Kenya.
🍂 Elderberry Elixir by Earthley Wellness. Fight cold and flu with Earthley's Elderberry elixir. Doses are mere drops per day, meaning it is the most cost-effective option for elderberry immune support.
🍂 Calm Moon Drops by Moon Infusions. Zen in a bottle! These all-natural relaxation drops help calm and focus. Simply add to water, sip, and relax naturally!
🍂 Enlighten Serum by Amanda of the Hippie Homesteader. Cleanse and release negative emotions and lighten your spirit with the sweet, woodsy scent of Enlighten. Handcrafted with sustainably-sourced plants.
🍂 Organic Date Syrup by The Date Lady. Enjoy this ancient sweetener in baked goods or drizzled onto pancakes on a crisp autumn morning.
🍂 Hydrating Mist by Sonage. Keep your skin looking fresh and hydrated with this all-natural mist made by an EWG-certified company.
Each autumn box supported wildfire relief in the Amazon Rainforest.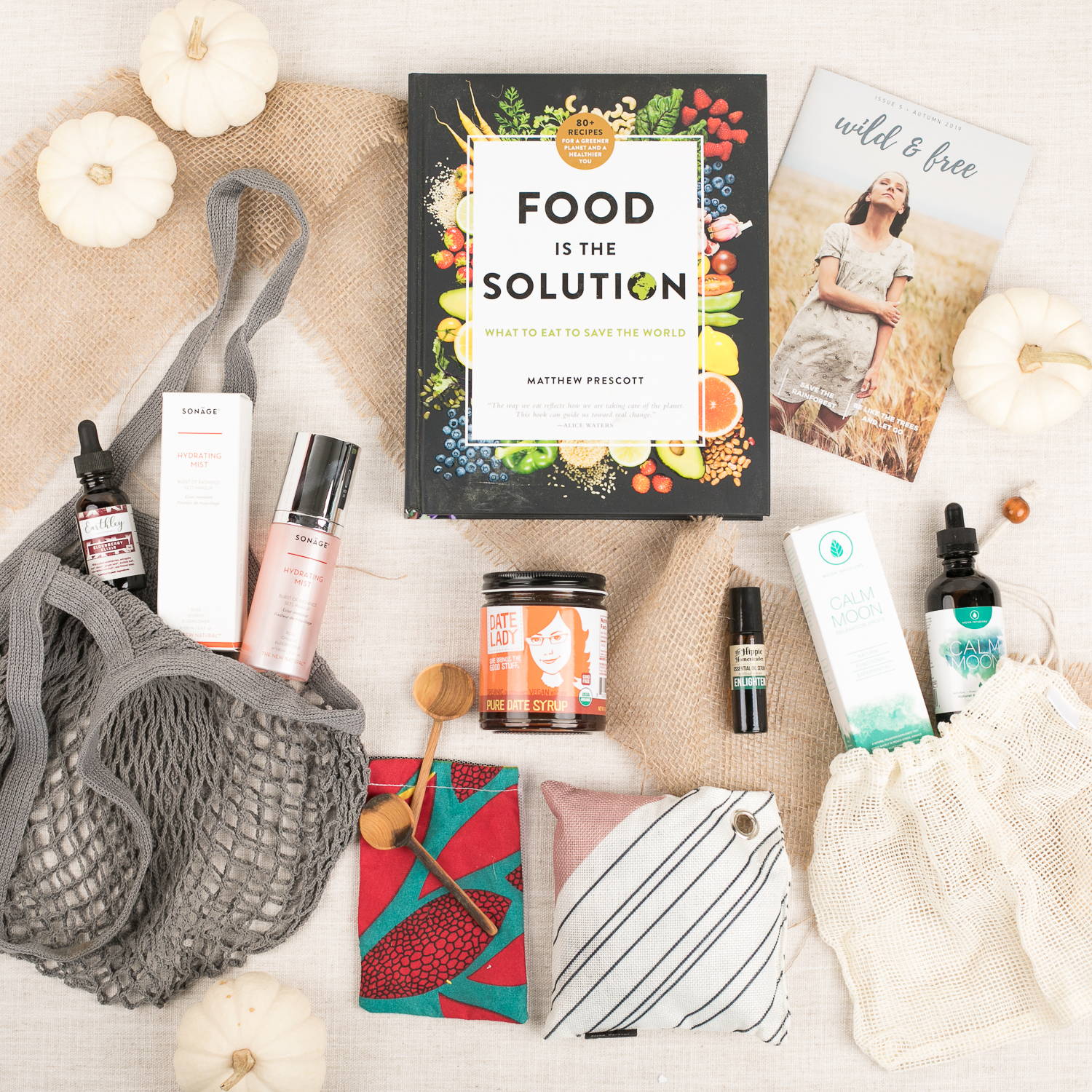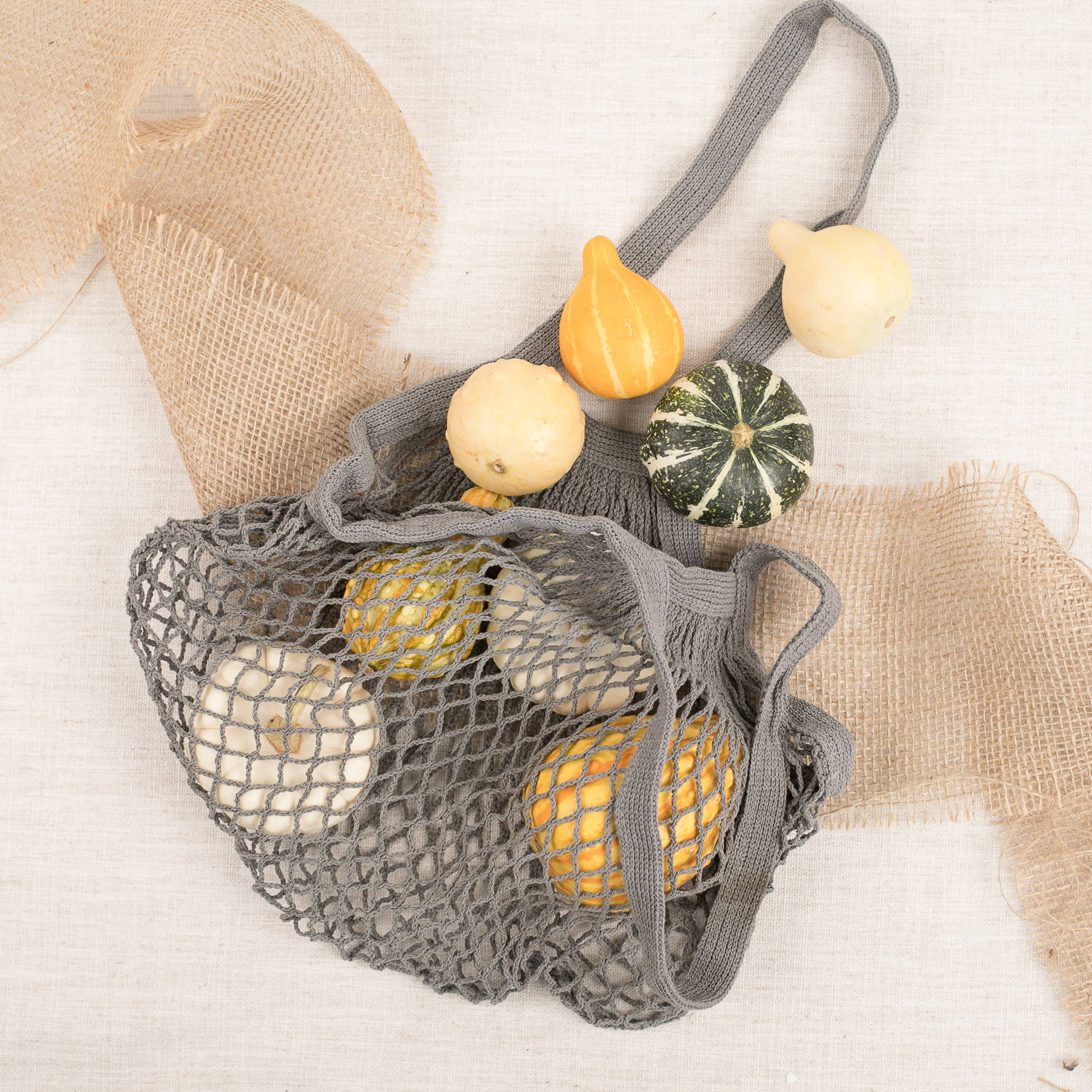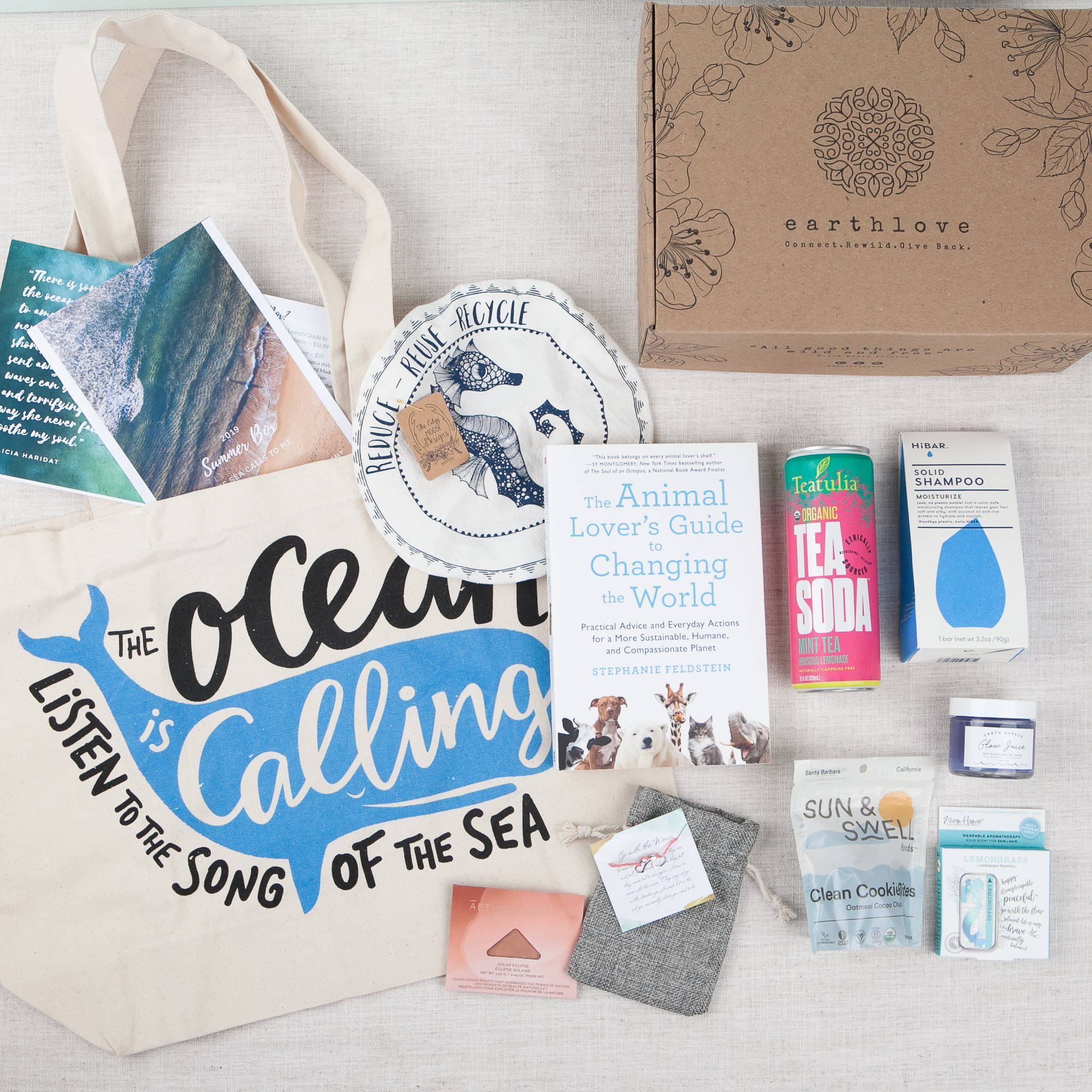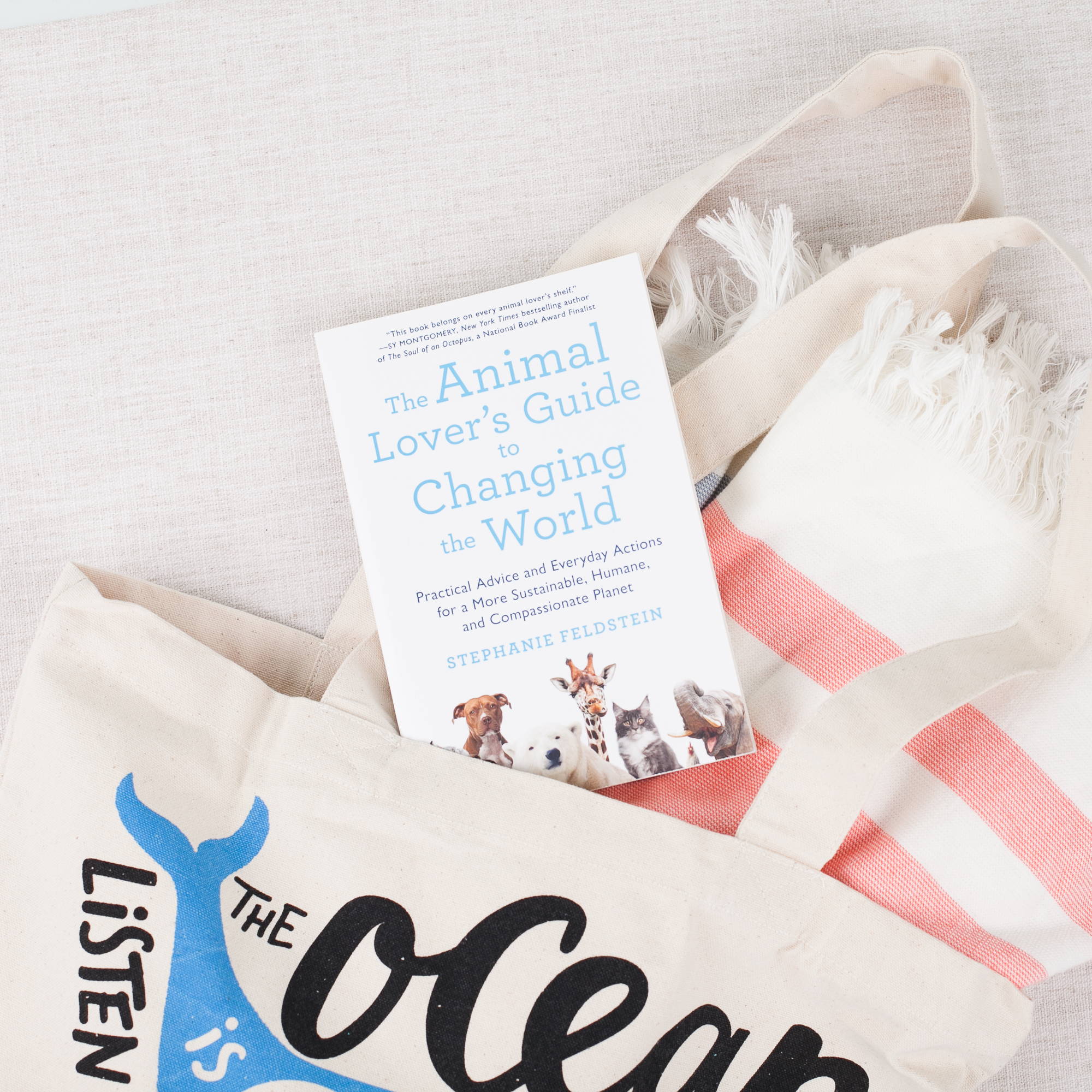 Our Summer box was themed "The Sea Calls to Me" and was packed to the brim with TEN eco-friendly goodies for summer fun:
🌻 BOOK OF THE SEASON: The Animal Lover's Guide to Changing the World by Stephanie Feldstein
🌻 EXCLUSIVE Whale Beach Tote designed by the Earthlove team and made by Gallant International. This GOTS-certified organic cotton and fair-trade tote is perfect for the beach, farmer's market, or anywhere summer might take you!
🌻 Moisturizing Shampoo Bar by HiBAR. HiBAR is on a mission to rid our bathrooms of plastic! Made with natural, vegan, cruelty-free sustainably-sourced ingredients in plastic-free packaging.
🌻 Organic Mint Tea Soda by Teatulia. Enjoy a refreshing mint tea and hibiscus lemonade soda!
🌻 Oatmeal Cocoa Chip Clean Cookie Bites by Sun & Swell. Handcrafted in Santa Barbara with 5 organic ingredients, these cookies capture the values of clean whole food snacking 😋
🌻 Glow Juice Mask by Earth Harbor is an all-natural, vegan skin gel mask handmade with red seaweed and fruit enzymes for a beautiful exfoliating treatment in just 3 minutes!
🌻 Bowl Cover by Your Green Kitchen (Vegan Box Only). Crafted with 100% GOTS-certified organic cotton, this reusable cover is a great way to reduce plastic 🐠
🌻 Reef-Safe Sunscreen Butter by All Good (Beegan Box Only) is made with natural, organic ingredients and infused with calendula flowers grown on their farm in California.
🌻 Solar Eclipse Single Eye Shadow by Aether Beauty. This vegan eye shadow has a warm peach metallic shade infused with topaz—the perfect golden hour shade to have your eyes glowing like a sunset! Plus, it comes packaged in a zero waste container.
🌻 Lemongrass Wearable Aromatherapy by Warm Human. Lemongrass is a traditional medicinal herb used for calming, reducing stress and anxiety, and encouraging happiness. It also makes a great all-natural insect repellent!
🌻 EXCLUSIVE Waves of Change Ring by Earthlove -- a reminder to go with the waves 🌊
Each Summer box supported the Coral Reef Alliance.
We kicked off 2019 with our Spring box "Potential", which included one fiction book + SEVEN eco-friendly goodies:
🌱 BOOK OF THE SEASON: "The History of Bees" by Maja Lunde ties into our environmental cause of the season and shows us just how dependent we are on our pollinator friends – and how much we need to help them! 🐝
🌱 A 14oz Reusable William Morris Cup by eCoffee Cup. Reduce waste and look eco-chic with this gorgeous reusable cup. Made of bamboo and silicone, this is the most eco-friendly cup on the market because it is compostable and -- best of all -- there is NO plastic!
🌱 Rosemary Citrus Aura Spritz by Mystic Ginger Apothecary. Crafted by certified herbalist Kellie, this uplifting rosemary and citrus spritz works great as a body spray or around your home when you need to clear the fog and invigorate the senses!
🌱 Lemongrass Cherry Matcha Superfood Bar by LivBar. LivBar's vegan superfood bar is organic and packed with flavor and superfoods. Even better, the packaging is compostable!
🌱 Inspiring Energies Affirmation Deck by Sue Lion. Sue Lion's original artwork and poetry is beautifully displayed in this 14-card deck "Trees Speak" and is a perfect size to take with you on a hike or meditation.
🌱 Grow Your Own Tea Herbal Garden Kit with Lemon Mint by Decker Road Seeds. This kit includes everything you need to grow your very own lemon mint herbal tea – even for those without green thumbs!
🌱 Wings of Jade Boho Headband by Soul Flower. Guide your soul into the light with this gorgeous lunar moth headband, hand screenprinted in Minnesota using 50% organic cotton, 50% recycled plastic.
🌱 Hand Lotion by The Farmer's Touch. Handcrafted by farmer Bethann Bruno, each batch is organically grown at her farm (or sustainably sourced) and made fresh!
🌱 BONUS: 2 teabags from Pukka!
This season Earthlove is supporting wild pollinators and other invertebrates with the Xerces Society! 🦋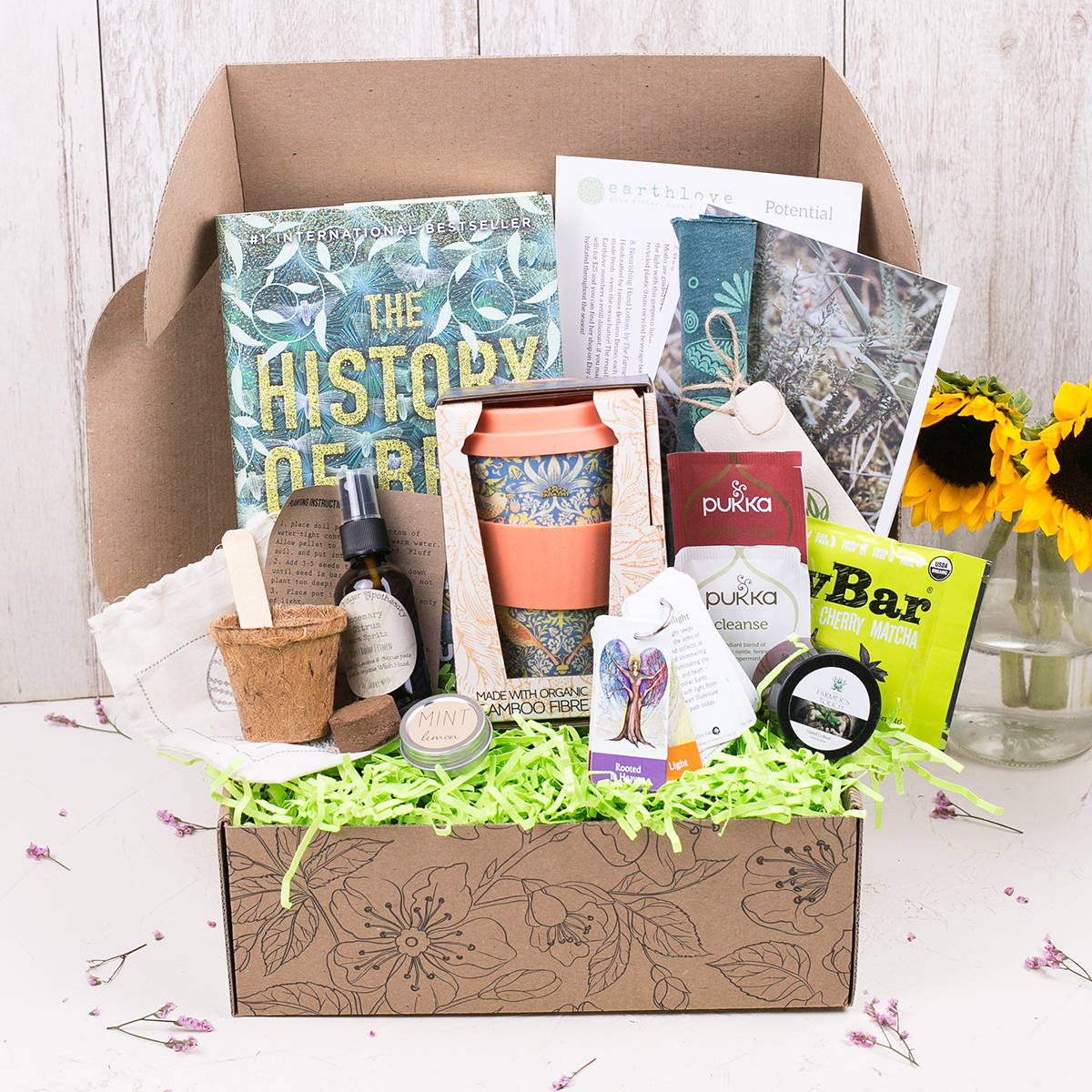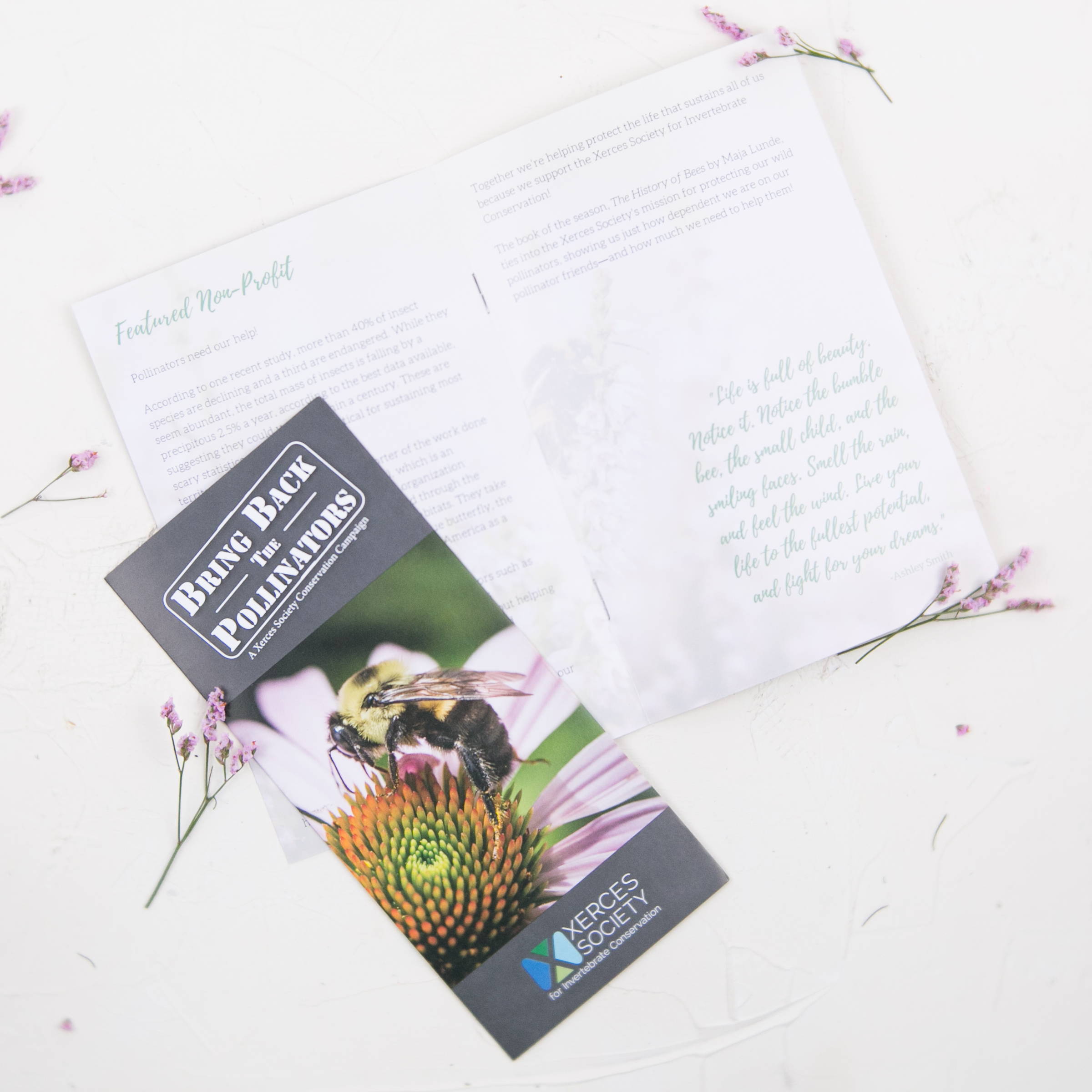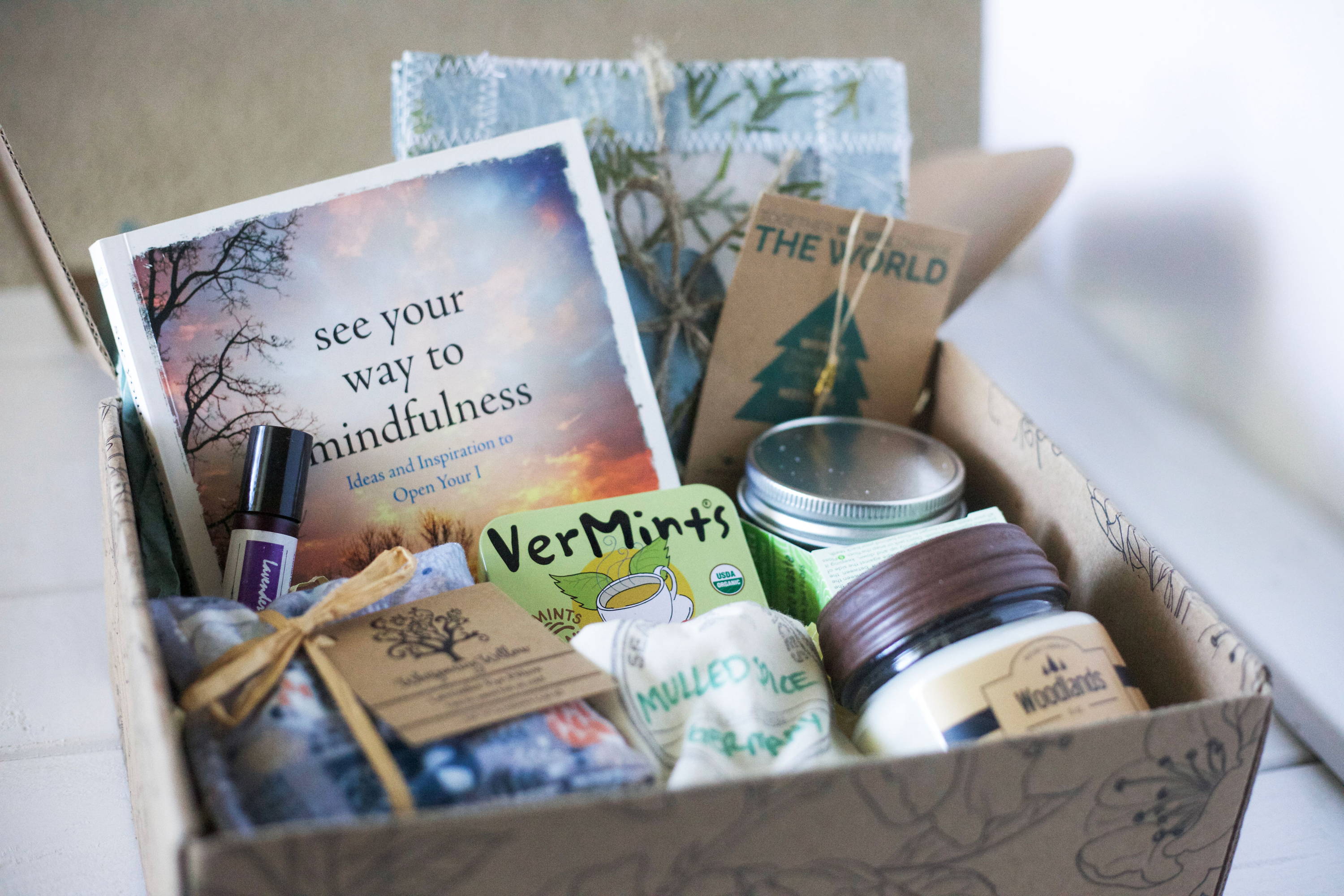 Winter beckons us to slow down. Tune your heart to the stillness that nature inspires. Like the fields that lie fallow and roots slumbering blanketed in snow, so too should we rest. Stillness is who we are when we can quiet the restlessness of our mind. Our Winter subscription box includes a hand-picked curation of 8 eco-friendly products + one book to cultivate stillness throughout the winter season.Our featured environmental non-profit this season Boreal Songbird Initiative, a Seattle-based non-profit working to help conserve critical habitat for songbirds and other wildlife. Earthlove supports a different environmental non-profit each season working to converse and protect our fragile ecosystems.
We have long depended on the forest for sustenance, healing, and rejuvenation. Our first subscription box, called "A Gathering in the Woods", is a hand-picked curation of 6-8 eco-friendly products for the wild at heart from wildcrafters, aromatherapists, makers, and others that are sustainably gathered and harvested from surrounding forests and wild places as well as nature-inspired goods to cultivate a wilder, earth-centered life. Each box comes with the book "Kiss the Ground" by Josh Tickell and tips for living in harmony with nature and is over $100+ in value!We partnered with OneTreePlanted this season and they will plant a tree for every founding member of Earthlove who subscribes.